New Ventures
Weekly Broadband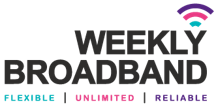 What started as an simple idea of 'How can we make broadband flexible for everyone. We began work to prove the concept. Working together with BrightHouse, the 'Weekly Payment Store' that sells household products on a pay weekly basis throughout the UK, it has grown into a small business already.
Selling residential broadband with no install fee, no cancellation fee, no long contract and payment frequencies of monthly, fortnightly or even weekly comes with a lot of challenges. Customer service, provisioning and credit control have to be spot on as recurring issues come round again on a five day working week. We even had to build our own make shift billing system as the industry is set on monthly billing runs.
Business Gas and Electrics

We have never backed away from a challenge to look at new products and innovations but this was quite a jump as it took us into whole new industry. However our sales team have been comfortable in helping our customers look at ways in which we can save their companies money.
We are able to source your energy needs from many different energy providers with many different tariffs to suit your requirements. Best of all, we can freeze your prices for five years, savings compounding every year as energy prices continue to sour.